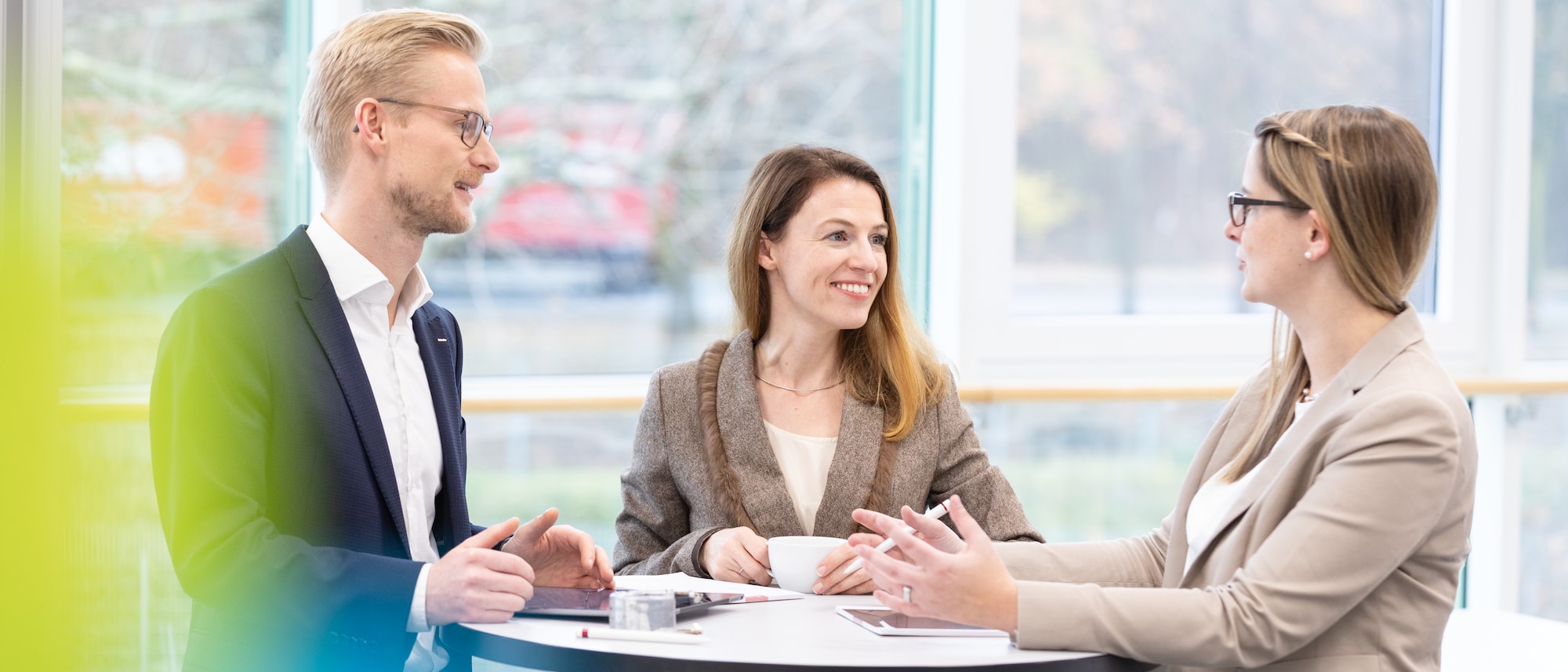 CULTURE & VALUES
We work better – together. Miele offers a variety of employment opportunities nationwide and internationally. We are looking for people who would like to enthusiastically represent an internationally successful, premium brand.
Culture and values - what is important to us and makes us strong
"Leadership here at Miele is based on the joint principles of the culture we live at Miele: respect, openness and fairness".
(Olaf Bartsch, Executive Director Finance and Administration)
For 120 years, Miele has been a family-owned, family-run company. Based on this tradition, a healthy balance between the demands and the appreciation of our employees is very important to us. Besides following our objective of becoming "forever better" which our employees represent with their specialist knowledge, their ambition and with thinking ahead, we want to ensure that everyone can experience and profit from our good working environment here at Miele. Living and passing on our Miele values, as well as working in teams to further develop our innovative products, are important parts of our Miele culture at each of our 50 locations.
Take a quick look into the world of Miele ANZ through the eyes of our employees.
Employee Statements
"I joined Miele Australia 15 years ago as the National Warehouse and Distribution Manager. It was very exciting to come to a company that had distribution centres in 5 different cities rather than just one. My first task was to bring the teams together, set up some standardisation to the operation and seek that next step up. I had a very strong team to support me and we made some very significant changes to how we did business from a distribution and warehousing point of view.
A few years down the track I took on the role of Head of Logistics and now had the Planning Department as part of my team. This brought together the entire Supply Chain process into the one department. The opportunity then came up to move across as the Head of Technical Management, where I have been for the past 5 years. A significant change of pace to my days in Logistics, but a very rewarding area to be in. Once again, I have been supported by a very strong team where we have made some significant progress in areas such as Tech Training, Tech Support, Compliance and Continuous Improvement, always focusing on what is best for our customers. Throw in a little bit of soccer at the end of the workday and you have the dream job!"
- Fernando Monge, Leader of Technical Management

"For the last 5 years I have been a field service technician for Miele in Melbourne's CBD. My goal on each job is to try and fix each appliance on the first visit and in a timely manner whilst giving the customer an experience that will lead them to want to return to Miele over and over. In my role I always need to have communication with other departments and there is always support and help as everyone who works for Miele has the same goal to give the customer an experience and satisfaction they cant get any where else.
During this time I have gotten to know different areas of the business and made lasting friendships. I really enjoy representing the brand of Miele and am looking forward to see what the next years have in store."
– Morgan Paff, Service Technician

"The apprenticeship experience at Miele has been great. At every step of the way, from onboarding to day-to-day tasks, there is always support and opportunities to learn something new or develop new skills."
– Ryan Hutchings, 3rd-Year Apprentice, NSW

"I have worked for Miele for 4 and half years, starting as an apprentice in the Workshop and working my way into the service technician role after 1 and a half years. On the road we do our best to provide our customers with exceptional service so they can always have full confidence in our amazing products post sale. It has been an awesome few years and very excited to see the business grow and develop over the next couple of decades!"
– Jonathan Tommasoni, Business Development Manager

"I joined Miele some 16 years ago as a Consultant in the Contact Centre and I immediately felt very supported and part of the Miele family. My time here has helped me obtain further skills which have led to opportunities such as becoming a Team Leader for a few years to my role today as a Customer Resolutions Manager.
The team I work with are very committed and hardworking, however we do also find time to have some fun along the way. I've enjoyed being part of projects, collaborating with various areas of the business which has resulted in great improvement initiatives. I am very proud to be working for a company with such diversity, who believes in delighting our customers where we can, and who genuinely cares about their employees."
– Joanne Morgan, Customer Resolutions Manager

Employee Statements
After having been employed in the printing industry for 20 plus years, I decided to start fresh in a new field. I visited the Miele booth at a career fair and was surprised how well I was received.
Needless to say, I was hired in the Technical Support Department. I didn't have any experience in customer or technical support. After training, I sat with a senior tech and he assured me that I would be able to handle the demands of this new opportunity. Months went by and he was right. I began to feel more and more comfortable. Now I'm a senior tech helping to train new recruits. Once you work with our appliances it is very hard to look at any others in the same light.
You learn that an oven is not just an oven it's a way to enhance someone's life. Miele employees are similar to our appliances anything but ordinary. We have a great sense of pride. The Miele experience has truly enriched my life and given me a new start.
-Brian M., Technical Training Department

I first heard of Miele while attending a job fair in April 2004. I'd been tied to a desk for several years and felt it was time for a change. I was looking for an opportunity to use my technical skills in a hands-on environment.
As I learned more, I began to appreciate the 'Miele difference'. Working at Miele represented an opportunity to work with the state-of-the-art appliances in a positive work environment. My initial training was comprehensive and thorough. It was an opportunity to learn and grow.
Since my start, I've worked as a servicing technician (road tech), an in-shop technician, a vacuum customer service representative trainer in the Engineering Services Department and now Supervisor, Call Center - Floor Care.
Working at Miele has provided me with an opportunity to work on world-class products, with professional people in a professional environment. Everyday is an opportunity for growth and development, it's all up to me.
-Larry O., Technical Call Center Department
Diversity, Equity & Inclusion
"Our people are the heartbeats of our organisation and are empowered to bring their authentic self to work, united by a mutual respect for one another in a safe and inclusive workplace. Our culture of collaboration drives our diverse way of thinking and passion for continual learning and evolution. We are ImmerBesser."
At Miele, we are committed to continually learning and growing as part of our core value of Immer Besser for our People.
Diversity, equity and inclusion is a community imperative in which we acknowledge and are a part of. Our Diversity, Equity & Inclusion Committee (DEI Committee) is an employee led and driven initiative, representing different members within our workplace, who are dedicated to continually growing a culture that is safe and inclusive for all.
We recognise and value our individual differences and through embracing our differences, celebrating our uniqueness and feeling empowered to bring our authentic and human selves to work, we will continue to foster a workplace culture that drives our philosophy of Immer Besser.