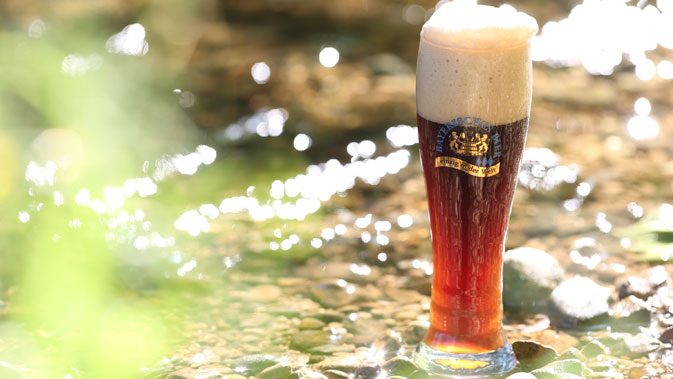 Beer in Bavaria
Beer is as Bavarian as Weißwurst, brass band music and Oktoberfest. Many people think of it as the fifth element.
Bavaria is home to half of Germany's breweries, more than 600 of them. Thanks to the craft beer boom, the number is growing. The leading region is Oberfranken, also called "beer Franken", which has around one million inhabitants and 160 breweries for them to choose from.
At the start of the 19th century, there were almost 30,000 breweries in Bavaria. Most of them were small village breweries that supplied the inns in the local area. Almost every monastery had its own brewery. In addition, with its purity law for beer dating back to 1516, Bavaria has the oldest piece of legislation relating to food and drink anywhere in the world that is still in force. But that's not all. Bavarian beer and the beers from Kulmbach, Mainfranken, Reuth, Hof and Munich bear the EU "Protected Geographical Indication" (PGI) quality logo and cannot be brewed anywhere else. Every beer with this logo must be brewed using the traditional process from mainly local ingredients and must meet certain requirements, which range from the wort content to the colour. This applies not only to well-known varieties such as lager, dark beer, Märzen/Festbier, Bock and Doppelbock, but also to regional specialities like Rauchbier (Bamberg), Zoigl (Oberpfalz), Keller- and Zwickelbier. It's hard to believe that you can make so many different types of beer from three ingredients (hops, malt and water) and two brewing processes (bottom- and top-fermented).

The hops play an important role and they are Bavaria's trump card. Almost exactly in the centre of Bavaria is the largest hop-growing region in the world, the Hallertau. It not only produces more than 80 per cent of all the hops used in Germany, but is also home to the Hüll Hop Research Centre where new disease-resistant hop varieties with special aromas have constantly been developed since the 1920s. The current bestsellers include "Mandarina Bavaria" (grapefruit, mandarins), "Huell Melon" (honeydew melons, apricots, strawberries), "Hallertau Blanc" (mango, gooseberries, white wine), "2010/08/33" (apricots, passion fruit) and "2010/72/20" (blackcurrants, blackberries).
More information:
www.bayern-und-bier.de
www.bayrisch-bier.de
Book tip:
Haus der Bayerischen Geschichte, Augsburg (Hg.): Ausstellungskatalog "Bier in Bayern", 360 Seiten, 24 Euro
Text: Rainer Meier