Miele Home Rewards
Save up to 10% on a Miele appliance package of your choice
Effective from 1 August 2018. Terms and Conditions apply.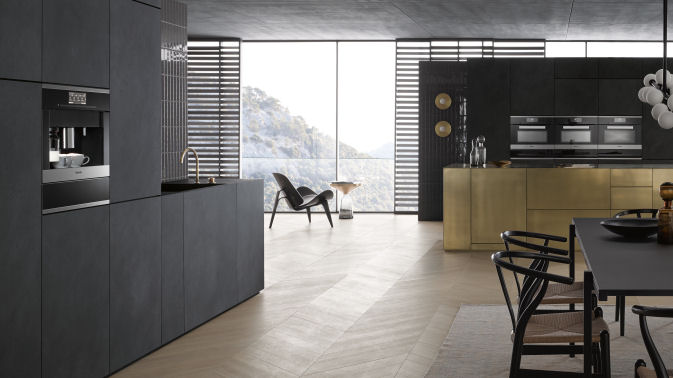 Save up to 10% on a Miele appliance package of your choice. To confirm your eligibility please read the Terms and Conditions below and click the "Online Rebate Form" link to submit your claim.
Terms and Conditions of Miele Australia Pty Ltd (Miele):
Effective from 1 August 2018
1. Please read the enclosed conditions carefully as they govern your entitlement, application and the
facilitation of the Miele Home Rewards. The enclosed conditions should be read in conjunction with the
Miele Terms and Conditions of Sale available at Miele.com.au.
2. The Miele Home Rewards rebate applies to eligible private retail buyers of 'new' Miele domestic Kitchen
and Laundry appliances and commodities. The offer explicitly excludes B-stock, display stock, floor care,
Miele Services (i.e. installation), project and commercial transactions and Miele Professional appliances.
3. Miele Home Rewards cannot be used in conjunction with any other rebate offer.
Eligibility criteria
I. Minimum purchase of any three (3) Miele kitchen or laundry appliances;
II. Minimum spend $10,000 (inclusive of GST) to claim 5%,
Minimum spend $15,000 (inclusive of GST) to claim 7.5%,
Minimum spend $20,000 (inclusive of GST) to claim 10%,
III. Purchases must be confirmed on the one (1) order receipt (excluding where Miele MasterCool is
included in which case two (2) order receipts with the same date will be accepted).
Eligibility requires compliance to and with all eligibility criteria.
4. Eligible claims must be submitted within six (6) months of the final invoice date. Claims submitted outside of this period will be invalid.
5. To make a claim, please complete the online claim registration form which can be located under the
promotions page on the Miele website. Australian customers, please visit www.miele.com.au
6. Miele reserves the right to verify and investigate all submitted claims, to make determinative decisions in relation to the offer and to deny the payment of a claim on reasonable grounds.
7. Miele may refuse to accept return of an appliance(s) in the event that Miele has paid a rebate with respect to the appliance(s) and the rebated amount is not returned to Miele (or proportion thereof).
8. The rebate will be paid by electronic funds transfer only (following validation) and upon verification that the order has been fully paid and delivered.
9. Please allow for four (4) weeks processing time for payment. Claimants should not contact Miele for
payment within this period.
10. As tax implications may arise in respect of the rebate payment, independent taxation / financial advice
may be required. It is the claimant's sole responsibility to decide and seek advice in this regard.
11. Nothing in these Terms and Conditions is intended to exclude, restrict or modify any consumer rights
under the Competition and Consumer Act 2010 (Cth) or any other legislation which may not be excluded,
restricted or modified by agreement. By lodging a claim under this offer, the claimant excludes Miele from
any liability for loss or damage resulting from or arising in connection with the offer or redemption save
and except where such liability cannot be excluded by law.
12. Participation in this promotion is only open to Australian residents 18 years and over. Business associates, affiliates, Miele Agents (and their employees), Miele employees and their immediate families are not eligible to participate in this offer.
13. Miele reserves all rights.
Miele product range
Online rebate form
Terms & Conditions