Punch – hot, aromatic, tangy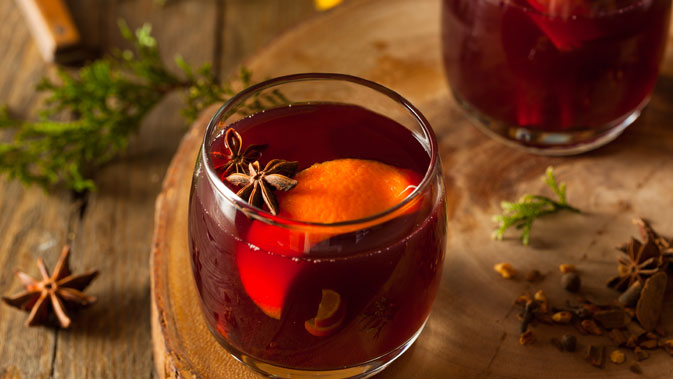 Punch – hot, aromatic, tangy
The popular drink originated from India but now has devotees around the world. Friedrich Schiller even dedicated a poem to it – the "Punch Song".
English sailors brought the aromatic mixed drink to Europe in the seventeenth century, where it is said to have been especially popular with the Tories. They got to know and love the drink known in India as paanch (the Hindustani word for "five"), and they called it punch in English. The name refers to the number of ingredients in the original recipe: water, wine, fruit, lemon juice and spices. Arrack, black tea, lime or bitter orange juice and sugar were later additions. These days, arrack (a strong Indian liquor, which is one of the oldest of spirits) is often replaced with rum. The special ingredients used to give certain types of punch their distinctive flavour include star anise, orange, ginger, vanilla and clove. The juice or the (grated) zest of an untreated lemon adds the final touch. Punch is usually served warm. When preparing it, the drink should only be warmed up gently and never brought to the boil; this preserves the taste, aroma and alcohol. It can also be enjoyed as a cool, refreshing drink. It was fashionable both as a warm and a cool drink in the eighteenth century. Wolfgang Amadeus Mozart, who drank his first punch during a visit to England, also found both versions of the drink delicious.
Text: Regine Smith-Thmye

Elderflower and verbena punch with ginger

Serves 1–2
1 cube of ginger the size of a walnut, 1 organic juicing orange (for the peel and 100 ml juice), 1–2 pieces of star anise, 2 cloves, 2 verbena teabags (vervain), 4–5 tbsp. elderflower juice (100% fruit content), 2–3 tsp. honey, 1–2 tbsp. brandy, if desired
1. Scrape away the peel of the ginger root and cut the ginger into wafer-thin slices. Peel off a wafer-thin layer of skin from half an orange. Put the ginger slices, orange peel, star anise and clove in a saucepan with 250 ml water and bring to a boil slowly.
2. Take the pan off the hob, add the verbena teabags, cover, and steep for 5 minutes. Take out the teabags, pour in the pressed orange juice and elderflower juice, warm up the mixture again (do not boil) and sweeten with honey.
3. Pour the punch through a sieve into one or two heat-resistant glasses or cups and garnish with the orange peel. Add brandy to taste and serve immediately.
Tips:
The punch also tastes great without alcohol.
Cut the orange peel without the white pith as this has a slightly bitter note.