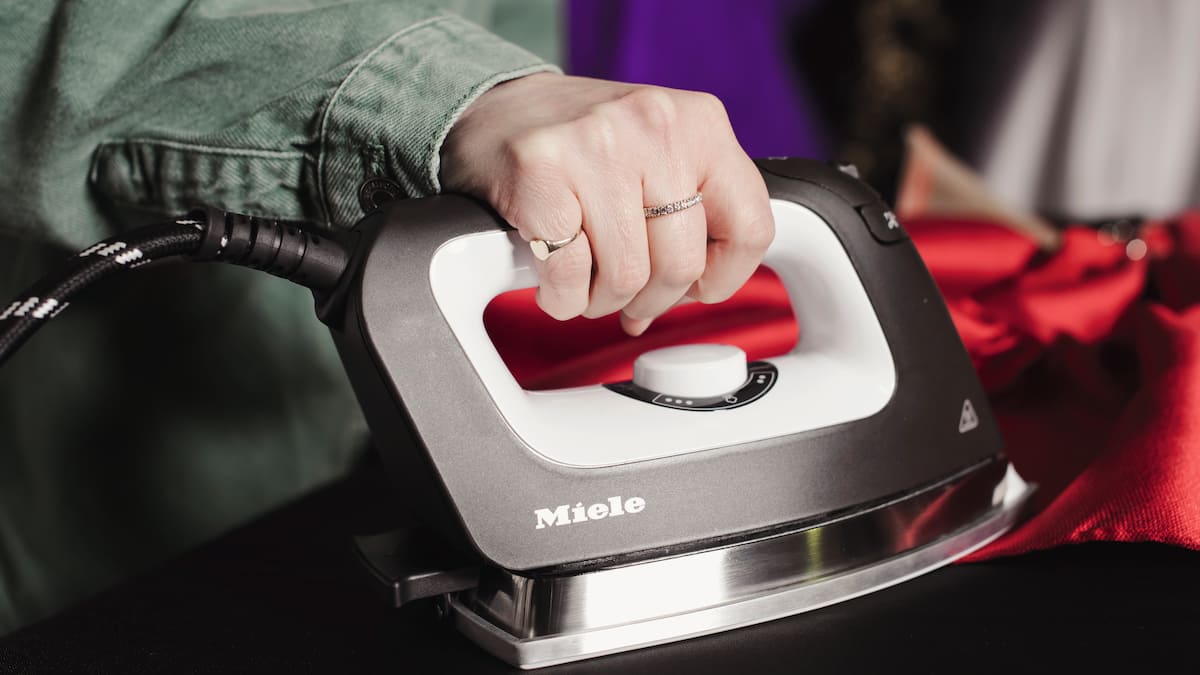 Jason Grech
Customer Stories
JASONGRECH is a multiple award-winning Australian couture brand, synonymous with pure luxury. The brand specialises in couture bridal and red-carpet gowns of the very highest quality. Over its stellar career, JASONGRECH has become one of Australia's most celebrated couture houses. This dynamic brand has been setting the local fashion landscape alight for over a decade with gorgeous, inspirational designs and innovative thinking. Creating diverse textures and tones for his stunning collections, Jason's talent is in the marriage of fine detailing, incredible fits, delicate embroideries, hand beading and outstanding quality to produce show-stopping gowns year after year. We recently reached out to Jason and Anie from the JASONGRECH team, and invited them to put the Miele Professional PIB 100 Steam Ironing System to the test in their couture studio.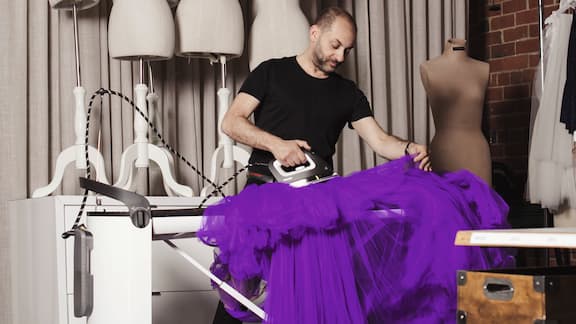 How long have you been using the steam ironing system?

Jason: We have been using the steam iron for approximately 12 months and it's helped us achieve beautifully pressed evening wear, red carpet, and bridal gowns.

What were your initial impressions when you first received the steam ironing system?

Jason: It's a beautiful machine that looks incredible in our workroom. It's very easy and a delight to use.

Anie: My initial impression was how stylish the unit looked in comparison to typical workroom irons. The neutral colour scheme and the clever attachments. Really impressed with the descaling tablets and the machine prompting us when to do so - very helpful reminder in our fast-paced environment.

What features or aspects of the product do you use the most?

Jason: The strength and consistency of steam allows us to press and mould garments beautifully.
Anie: General pressing and under pressing of garments during construction and the handheld steam function for finishing garments before collection.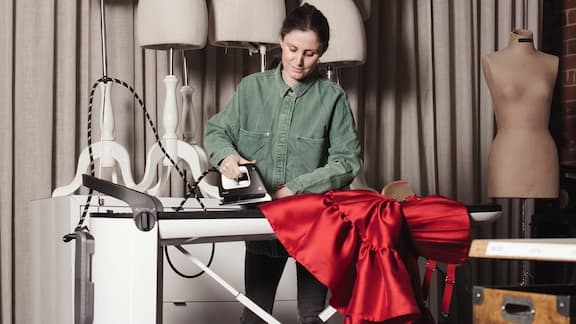 How user-friendly is the product?

Jason: It's very easy to set up and use.

Anie: Very user friendly, screen prompts are a great feature. The steam that blows both up and down which helps with both moulding of garment seams and reducing dampness on the board so delicate fabrics like silk don't get water marked.
Also love the fact that it folds up neatly and is rather compact for such a large ironing board (the width of the board is GREAT).

What type of users do you think would benefit most from this product?

Jason: All households, small business including retail, dressmakers and designers

Anie: Households with large families, dressmakers, fashion schools, stylists, clothing retail stores. Anyone who wants a great pressed finished garment.

Do you have a favourite garment you have finished/steamed using the product so far?

Jason: It's hard to pinpoint just one as there's been many. The dresses we have made for Kylie and Dannii Minogue!

Anie: Enjoyed using it to finish all our latest fashion collection on the Melbourne Fashion Week runway.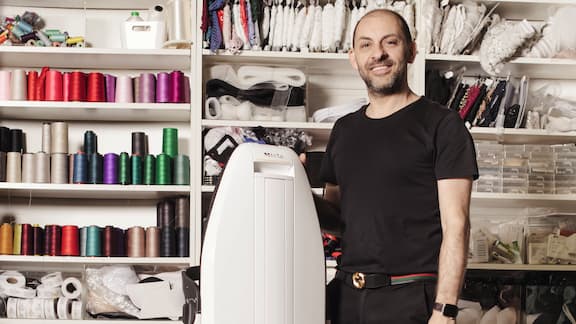 The Miele Professional PIB 100 Steam Ironing System

When conventional domestic appliances are stretched to the limit in the face of hours of continuous use, the PIB 100 Steam Ironing System proves to be a strong and enduring all-rounder.

The compact combination of iron, steam generator, handheld steamer and ironing board brings together the best of two worlds: as practical as a domestic appliance and yet powerful, fast, and durable to perfectly master the challenges of commercial use.

Thanks to its efficient steam technology and 4.5l water tank, the steam ironing system keeps on ironing to perfection for at least three hours before needing to be refilled. Based on a maximum ironing time of 3 hours per working day, the machine can be operated for a month without descaling.

From its cutting-edge steam technology, ergonomic design, and intelligent controls to its intuitive user experience, the Miele Professional PIB 100 steam ironing system has been crafted with utmost precision to make ironing tasks more enjoyable and less burdensome.
​
Whether you are a professional tailor, a passionate home-sewer, or work in an industry where ironing dominates the daily work routine, the PIB 100 Steam Ironing System from Miele Professional makes ironing a pleasure.
This product was provided to the JASONGRECH team as part of a gifted partnership.
Learn more about the PIB 100 Steam Ironing System
Professional steam ironing system with large water container for prolonged ironing time and the perfect results.