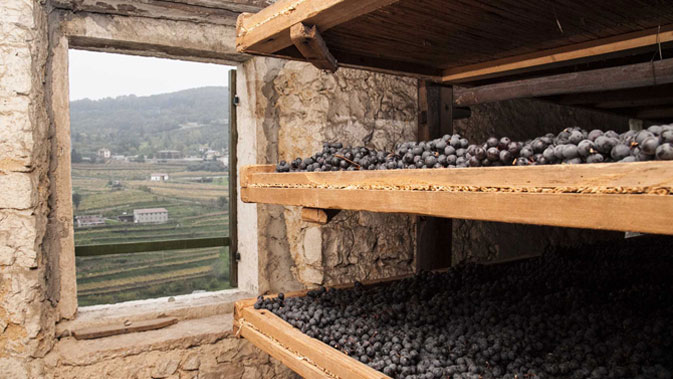 Amarone
For more than 2000 years, a unique wine has been made from dried grapes in the Italian region of Valpolicella.
It smells and tastes of black cherries and ripe plums, fruit preserved in rum and warm fruit flan. It has a velvety feel on the tongue and warms body and soul. A wine like an ancient monument, an old handmade leather armchair or a literary classic. You can drink Amarone as an aperitif, a digestif or an accompaniment to food. Its special character is the result of its unique origins and production method.
Amarone is made exclusively from the indigenous red grape varieties Corvina, Corvinone Veronese, Rondinella, Molinara and Oseleta and is only produced in the Valpolicella Classico region (to the north of Verona and the east of Lake Garda) in the Veneto in Italy. After picking and before pressing, the ripe grapes are hung up on bamboo mats or wooden frames for three to four months in special outbuildings or lofts with good ventilation. During this maturing and drying process, which is known in Italy as appassimento, the grapes lose 60 per cent of their weight (mainly water), but the sugar, acid, flavour and aroma levels increase. From mid-December onwards, the grapes are carefully pressed. The must ferments for up to 50 days in stainless steel tanks or wooden barrels, before being left to mature in wooden barrels for up to six years. Amarone DOCG can only be sold in bottles from two years after the harvest.
Although Amarone tastes good when young (coarse textured, full of aroma and tannins, with youthful exuberance and the scent of overripe fruits, such as cherries and plums), it only develops its true character after eleven to thirteen years. Then it becomes more velvety, sophisticated and elegant. The primary fruit aromas move into the background and the flavour is dominated by spices, coffee, cocoa and cinnamon. With a maximum of seven grams of residual sugar and an alcohol content of up to 18 per cent by volume, Amarone is by no means sweet. Its name comes from the Italian word amaro, which means "bitter", but a really good fifteen-year-old Amarone, for example from Masi, is far from bitter-tasting. On the contrary, it is rich in extracts, soft and complex.
A word about storage: like any high-quality red wine, Amarone should be stored in the dark, in a place where it is not exposed to vibration or odours, at a constant temperature of 12 degrees Celsius and at 70 per cent ambient humidity. The best location is, of course, a wine storage cabinet, where the temperature and the humidity remain constant. An integrated activated carbon filter ensures that no external odours or dust can penetrate during the air exchange process.
(Rainer Meier)