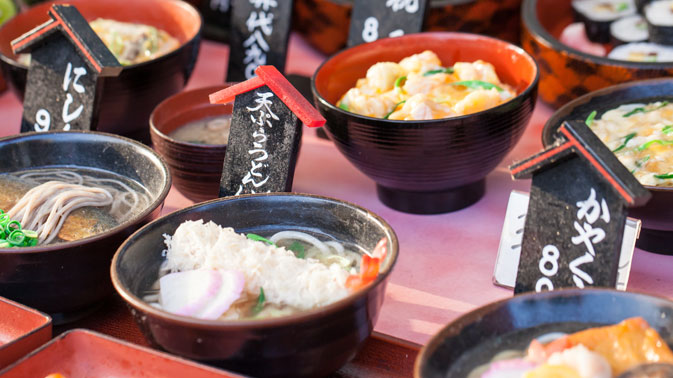 "Oishii"
…is Japanese for "delicious". Kyoto has such a wealth of delicacies to tempt you with that it would be easy to lose sight of the equally numerous attractions.
Gardens and geishas, temples and tea ceremonies, Kyoto and kaiseki: Words that immediately evoke images of the awe-inspiring imperial city, activate the taste buds and the olfactory receptors, and unleash feelings of nostalgia and romance. Kyoto is known as the soul of Japanese culture and as the source, in a sense, of both the religious and secular traditions that have been cultivated for centuries and are still treasured to this day. Eating and drinking play a part in many areas of artistic creation or are an art form in their own right. One example is the tea ceremony, whose choreographed rituals serve to train the awareness. Or kyokaiseki, which is based on Kyoto's traditional cuisine, as well as on shojin-ryori, vegetarian temple food.
One of the famous masters of this highly developed form of Japanese hospitality is Yoshihiro Murata, who runs the "Kikunoi" restaurant. The subtly composed mini dishes, each placed on handpicked tableware, fuse together into an extravagant culinary experience, with the seasons reflected both in the food itself and in elements of the simple room décor. Kaiseki originally meant "hot stone". Mendicant monks would warm a rock and press it to their bodies – the warmth was said to suppress feelings of hunger. In the sixteenth century, the term was used to describe the small dishes that were served during tea ceremonies, which had developed from Zen Buddhism. The high caffeine content of the powdery green tea often had quite a severe effect on empty stomachs, so miso soup and other snacks were served with it. In time these small side dishes became ever more elaborate and eventually blossomed into Japan's haute cuisine at the shogun court.
To this day, at the beginning of the tea ceremony, a sweet biscuit is still placed on the tongue and a draught of the thick matcha tea poured over it. The confection, made of sweet bean paste and rice flour, is said to accentuate and harmonise with the bitterness of the bright green drink, explains tea master Rie Kuranaka. In her aesthetically designed tatami salon, located in close proximity to the fabled Golden Pavilion and the Ryoan-ji Zen garden, the young woman demonstrates a shortened version of the elaborate ritual – ideal for visitors who are on a tight schedule. The full ceremony can last hours and foreigners are not usually invited to take part.
While Kyoto's traditional restaurants, the ryotei, are closed and intimate spaces, the city's market and food stall street, Nishiki-Dori, is open and vibrant. It is a real wonderland of Japanese ingredients, side dishes and kitchen utensils, with everything carefully and appetisingly presented. Samples are offered everywhere you turn, be it dried seafood, marinated vegetables, miso pastes, gingko nuts, mushrooms, algae or bonito flakes. The latter – like kombu kelp – is an essential part of dashi, a typical stock, which gives an umami aroma to kaiseki dishes. Knife makers' outlets steeped in tradition can also be found here, as well as shops selling valuable ceramic bowls, bamboo pots and clay trays made by long-established producers. In neighbouring alleyways and between windowless shops, hosts entice potential customers into restaurants with illustrated menus.
The Nishiki-Dori stretches over a distance of several hundred metres and it seems that all of Japan's speciality cuisines are available here: ramen, udon, teppanyaki, sushi, tempura, sukiyaki and robatayaki, to name but a few. Everywhere you go in the land of the rising sun, you have a decision to make regarding which ingredients, method of preparation and kitchen equipment to choose. Noodle soup, hotpot, raw seafood, fondue or a grill: mixed culinary concepts are a rarity. A restaurant's interior and cosiness reveal much about its prices and the kind of experience you can expect there. Yakitori, for example, are cheap after-work pubs, which serve various kinds of roast chicken with the beer, while izakaya are rustic sake pubs the size of a living room. Both are mainly frequented by men, who display increasingly high-spirited merriness as more and more alcohol is consumed.
Kyoto's highly esteemed confectionery shop Shioyoshi-Ken is probably the only one of its kind in Japan. Pure poetry is produced there. Now managed by Takaya-san Junior, the fifth generation of his family to do so, and with no technical modernisation measures having been carried out since the time of Emperor Meiji (1852–1912), the shop and workshop have a museum-like atmosphere. There are no ovens. The powdered sugar and rice flour dough – mixed from special, very expensive ingredients – is poured into wooden forms and is air-dried. The shapes and names of the sweet treats refer to legendary characters, events or important locations in Japanese history. Or to the season. Takaya-san Senior is particularly proud of his delicate creation called "Fukiyose", which features mushrooms, fir cones, pine needles and a handful of maple leaves on a black tray, all in miniature and with colours matching the real thing. The maple leaves are bright red like the colour of the trees in Kyoto's temple gardens in November. Both, a feast for the eyes. The only problem is that the exquisite edible art work looks too good to eat.
Text: Kiki Baron
Photos: Paul Spierenburg

Adresses
Four Seasons Kyoto
The city's newest luxury hotel in modern Japanese style, located in a 600-year-old park landscape.
fourseasons.com
Kikunoi
With three Michelin stars, this kaiseki restaurant is one of Kyoto's best.
kikunoi.jp/english
Izutsuya
A must for wagyu lovers.
690 Osakazaimokucho Sakaimachidori 3jyo Noburo Nakagyu-ku,
Tel. +81 75-222-29 01
facebook.com/sanjou.izutsuya
Torito
Modern after-work yakitori with tasty chicken specialities.
Higashi Marutamachi 9–5, Marutamachi-dori, Kawabata higashi-iru, Sakyo-ku
Tel. +81 75-752-41 44
sumibi-torito.jp/ and lonelyplanet.com/japan/kyoto/restaurants/torito/a/poi-eat/1428843/356698
Ippudo
The most popular ramen soup specialist of all.
Im Shinkyogoku Shopping District: 653-1 Bantoyacho, Nishikokoji Higashi-iru, Higashi-no-Toin, Nakagyo-ku, Nishiki Bldg 1F
Tel. +81 75-213-88 00
ippudo.com
Shioyoshi-Ken
Producing delicate confectionery since 1882.
Nakadashuri-dori 180
Tel. +81 75-441-08 03
kyogashi.com