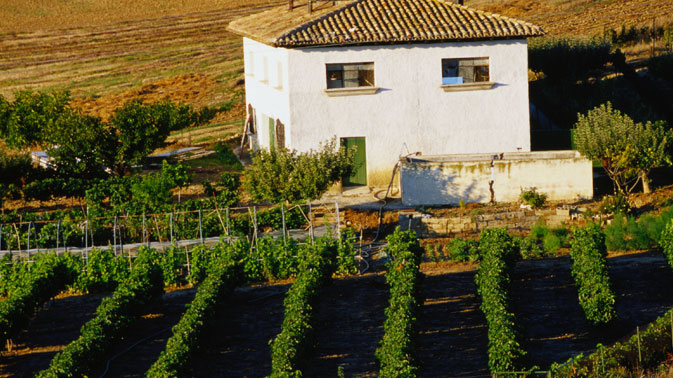 Navarre
Once a proud kingdom, the region of Navarre in northern Spain has since gained a worldwide reputation for fine wines.
The autonomous region of Navarre in the middle of northern Spain is characterised by the steep, rocky and often stormy Atlantic coast in the northwest, the countless valleys of the Pyrenees and their foothills in the northeast, the dry basin surrounding Pamplona and the banks of the river Ebro to the south. This rather matter-of-fact description reflects the natural variety of the wines produced in this former kingdom (824-1841).
Even the Romans made wine in Navarre. However, after a series of different powers occupied the region, each preferring different drinks, wine production ground to a halt for a long time. It was not until the 12th century, when monks from Cluny on the Loire and Cîteaux in Burgundy established monasteries in Navarre, that winegrowing finally experienced a recovery. The traces can still be seen today on the Ruta de los Vinos de Santiago wine route, which runs alongside the Camino de Santiago, the world's best-known pilgrimage trail, passing through many wonderfully preserved villages, churches, monasteries, palaces and wineries.
Today, Navarre's five wine growing regions extend over 15,280 hectares to the south of Pamplona. The region mainly produces (70 percent) powerful, rich red wines from the old Spanish grape varieties Tempranillo and Grenache, and modern French varieties Cabernet Sauvignon and Merlot. Around 25 percent is fresh and fruity rosé wines (Rosado or Clarete) and some five percent is dry white wines with floral notes made from Chardonnay and Viura grapes, and sweet Moscatel wines.
Navarre has one of the most liberal wine laws in Spain, which is why it is possible to find examples of almost any style of wine: single-variety wines and cuvées in every possible combination, wonderfully old-fashioned country wines and modern designer wines, wines made from vines up to 70 years old, and from three-year-old "youngsters". The spectrum of red wines ranges from young, edgy heavyweights through to single estate (Pago in Spanish) Gran Reservas matured in the wood for up to 36 months and which are only drinkable after at least ten years, although once they are mature they put many Bordeaux wines in the shade when it comes to elegance, complexity and silky smoothness. Unfortunately, many white wines are also produced in barrique barrels, which often rob them of their fruity notes. However, that's all changing now: an incredible number of highly-trained women work in both family-owned bodegas and cooperatives. They not only reduce the amount of time wine spends in the barrel, but are also increasingly replanting the old grape varieties. And the best thing about this is that more and more of these wines are being exported, and are thus available outside Navarre.
Text: Rainer Meier
Further information can be found on the internet at navarrawine.com (Spanish, English, German)