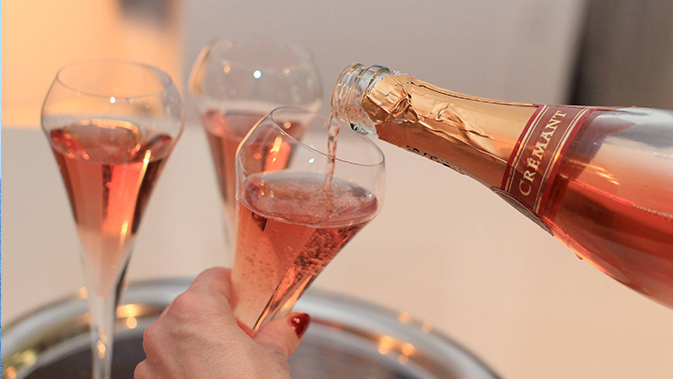 Crémant
This French sparkling wine is becoming increasingly popular at celebrations and parties and is competing in terms of both price and taste with champagne, its big brother.
Almost all French wine-growing regions – including Alsace, the Loire, the Jura, Burgundy, Bordeaux, Languedoc and the Rhône, but with the exception of Champagne – produce crémant: a light sparkling wine that ferments for at least nine months in the bottle (using the traditional méthode champenoise). The Mosel region makes Crémant de Luxembourg and Crémant de Wallonie comes from Belgium. Some of these wines have notes of berries and others call to mind yellow plums and elderflower cordial. They can taste sweet, but may also have a hint of acidity. Some have strong woody notes and others do not. As different grape varieties are used in the various regions, crémant has a different character in each area.
Alsace produces powerful, acidic, light-bodied crémants. Those from southern Burgundy are full-bodied and smooth, while their northern cousins are light and fresh, with flavours of crisp green apples. In the Loire region, the wines combine sweetness and acidity, elegance and barrique ageing. In southern Languedoc (Limoux), racy wines with strong acidity are popular, as is also the case in Luxembourg.
Although the majority of crémants are white, there is a clear trend for using rosé wine as the basis. The result is a fresh, lively, eminently drinkable crémant with a moderate alcohol content around 12 per cent, which, when chilled to between 6 and 8 degrees Celsius, slips down a treat.
In the past, champagne with a lower carbonic acid pressure, in other words, 2 to 3 bar, instead of the more normal 5 to 6 bar, was referred to as crémant. As the name was not protected, it was also used by winemakers outside the Champagne region. The producers in Champagne were very unhappy about this. For this reason, the name crémant has not been used in Champagne since 1975, but the refreshing wine is often drunk there. This is because champagne consumption is stagnating, while crémant is growing in popularity. This is undoubtedly also due to its reasonable price of between 10 and 20 euros.
Text: Rainer Meier