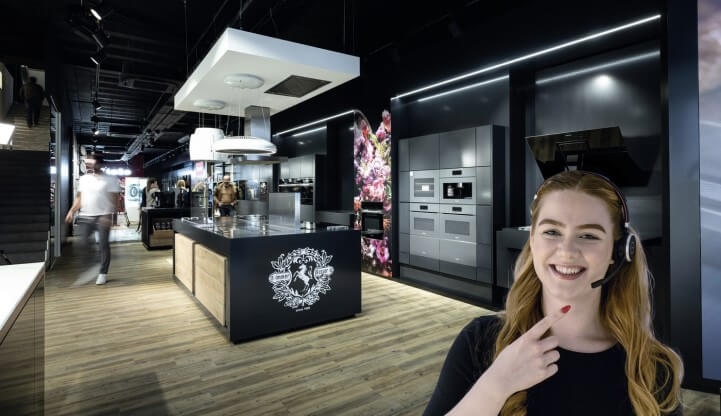 Miele Live Experience
Enjoy the benefits of a personal in-store consultation from the comfort of your own home.
Miele Live Experience
Get your personal consultation and product demonstration from one of our friendly, in-store experts.
We look forward to taking your call from Monday to Saturday between 9:00 - 17:00​.
FAQ
Frequently Asked Questions
What is it for?
Whether it is a kitchen appliance, a washing machine or a vacuum cleaner, our Miele Experience Centre Experts will have a range of appliances to show you on a live call and help you choose the appliance that is right for you.
Will I be seen on the call?
No, we will not be able to see you. Only you can see our Miele Experience Centre Experts. Do not forget to enable your microphone access and switch it on so we can hear you.
Will I have to share my details?
No, you will not have to share any details in order to call us. Our Miele Experience Centre Expert may ask for your name and/or contact information in order to send you information or follow-up the conversation, but there is no requirement to provide these.
If the call is cut short due to technical difficulties, please call the consultant back, as we will be unable to reconnect the call.
Why cannot I see the widget?
Normally it will appear at the bottom of your screen, after about 20 seconds. If this does not work, you may need to refresh the page or clear your cache. Otherwise, you can try private browsing or incognito mode.
Why cannot I connect?
If the consultant is showing as unavailable, they may be on another call or you might be calling out of hours.
Please note that certain web browsers are not fully supported. For the best results, try using Chrome or Firefox. Alternatively, you can try using your phone or tablet instead.